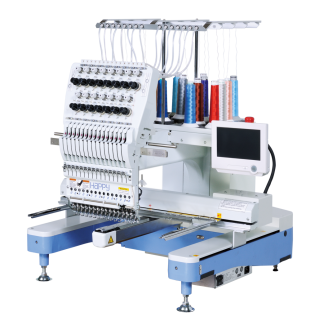 Den nydesignede HCD2 serie er bygget med de samme principper og overlegen håndværk HAPPY er kendt for.
Kompakt men stærk krop giver mulighederne for at håndtere alle typer broderi tekstiler, både store og små.
Den store broderi område tillader dig at lave broderi på ryggen af jakken, jumper, vindjakke og så videre.
Stærk støbejerns maskinestel og kraftig hovedmotoren giver mulighed for at kunne brodere på ekstremt tykke og tunge materialer.
Arm og krop er jern støbt som én enhed, det gør maskinen stærk og stabil og giver høj kvalitet broderi.
Broderi design kan startes 10mm fra kanten at kasketter.
Newly designed HCD2 series is built with the same principles and superior craftmanship Happy is know for. Compact but strong body gives the possibilities to handle all types of embroidery outfits, both big and small.
The wide sewing area allows you to make embroidery on back of jacket, jumper, windbreaker and so on.
Iron casted strong machine body and powerfull main motor have realized to embroider on extremely thick and heavy materials .
Arm and body are iron casted as one unit, it makes strong body and keep stable and high quality sewing.
Embroidery design can be started 10mm from the brim of cap.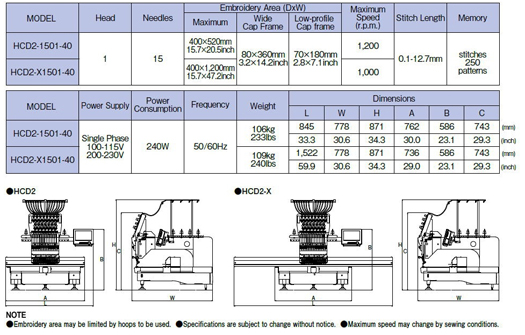 Characteristics and Features
7 inch TFT Color LCD touch screen control box Single head 15 colors
Maximum speed 1,200 r.p.m.
Flat Embroidery size 400 x 520 mm (400 x 1,200 mm : HCD2-X1501)
Tubular Embroidery Area : 400 x 440 mm
Low-profile cap frame(option) : 70 x 180 mm
Wide cap frame(option) : 80 x 360 mm
Free PC connection software
Machine memory 40,000,000 Stitches
Safety guard for thread take-up lever
LED front light for embroidery area
Sprial tube for threading
USB and LAN network port
USB flash memory port
Automatic thread trimmer
Automatic color change
Automatic thread break detection
Built-in bobbin thread winder (option)
Short stitch sweap function
Full casting bod